Regular price
Sale price
$49.00 USD
Unit price
per
Sale
Sold out
Our LOVESNAP band is bright white and has a beautifully plated Rose Gold closure. The white band has our signature debossed LOVESNAP logo. It comes with 5 rubber bands in different shades. Enjoy this unique elegant bracelet and your newfound positivity positivity.
Details:

Color:  white - rose gold
Dimensions:  Width 0.3" / 0.85cm  for all sizes 
X-Small:  Length  4.30" / 12.3cm 
Small:  Length  5.10" / 13.1cm   
Medium:  5.55" / 14.1cm
Large:  6.02" / 15.3cm
X-Large:  6.10" / 16.8cm
Material: 100% Silicone Rubber /  Rose Gold
Style-No: LSB-White-Rose Gold
Made with LOVE in California 
Share
Dimensions

Dimensions:  Width 0.3" / 0.85cm  for all sizes 

Small:  Length  5.10" / 13cm   

Medium:  5.55" / 14.1cm

Large:  6.02" / 15.3cm
Material

Material: 100% Silicone Rubber /  Brass 
View full details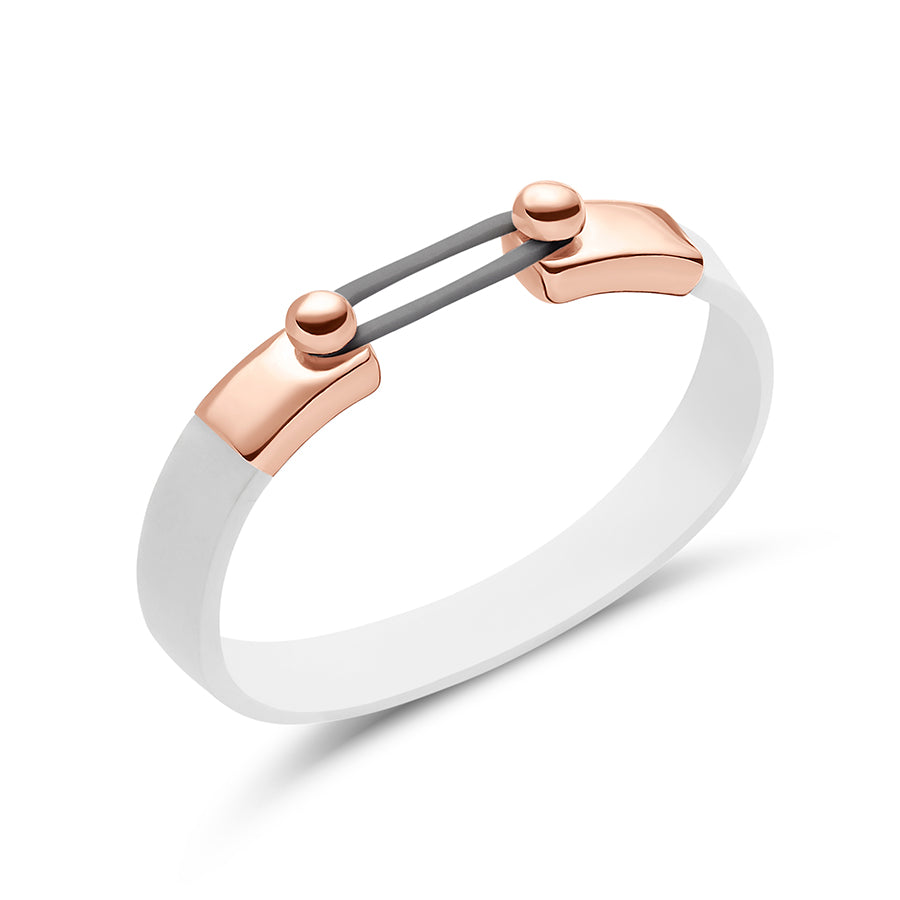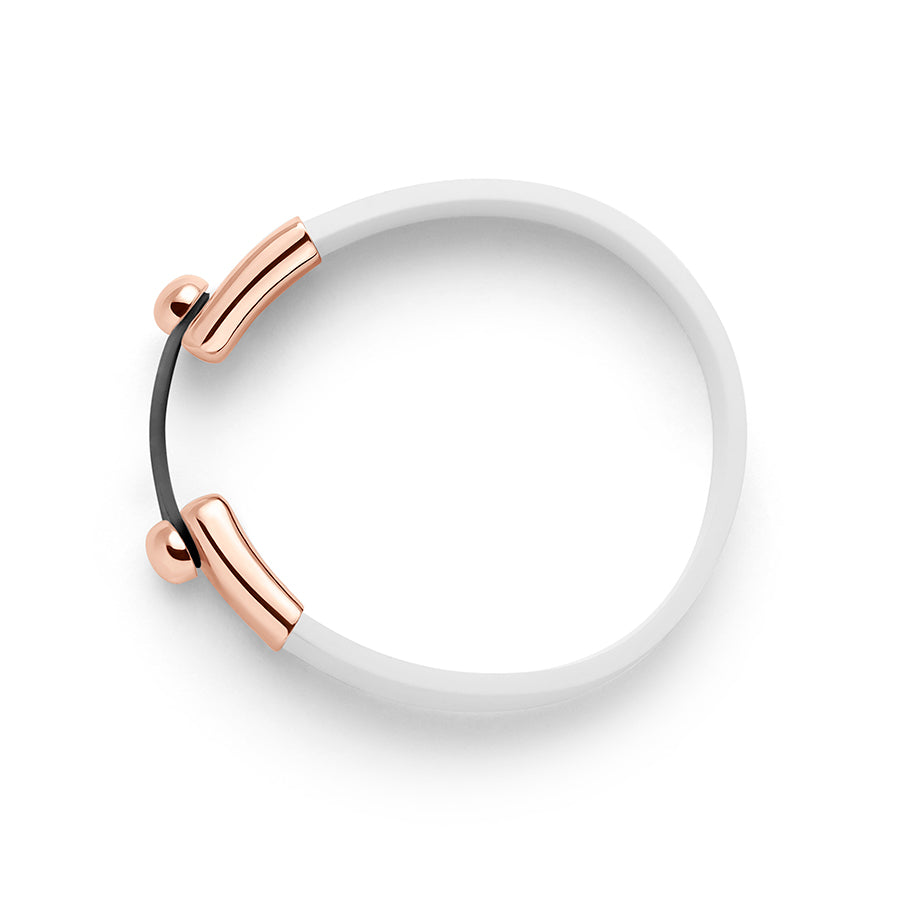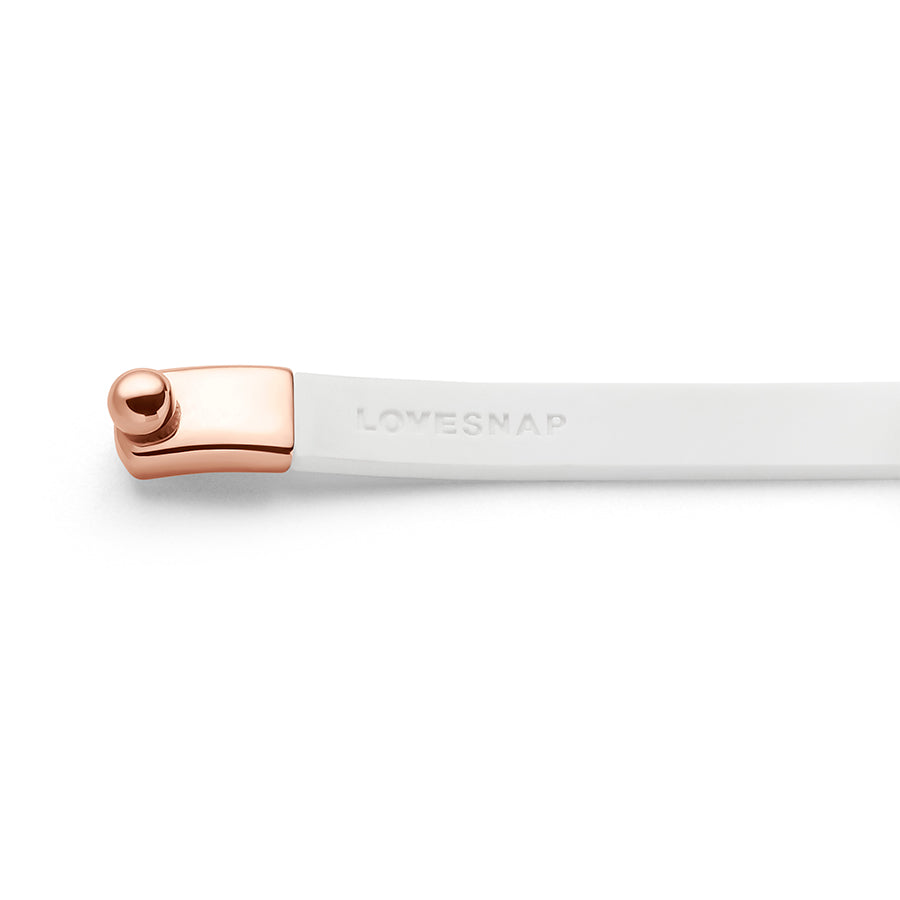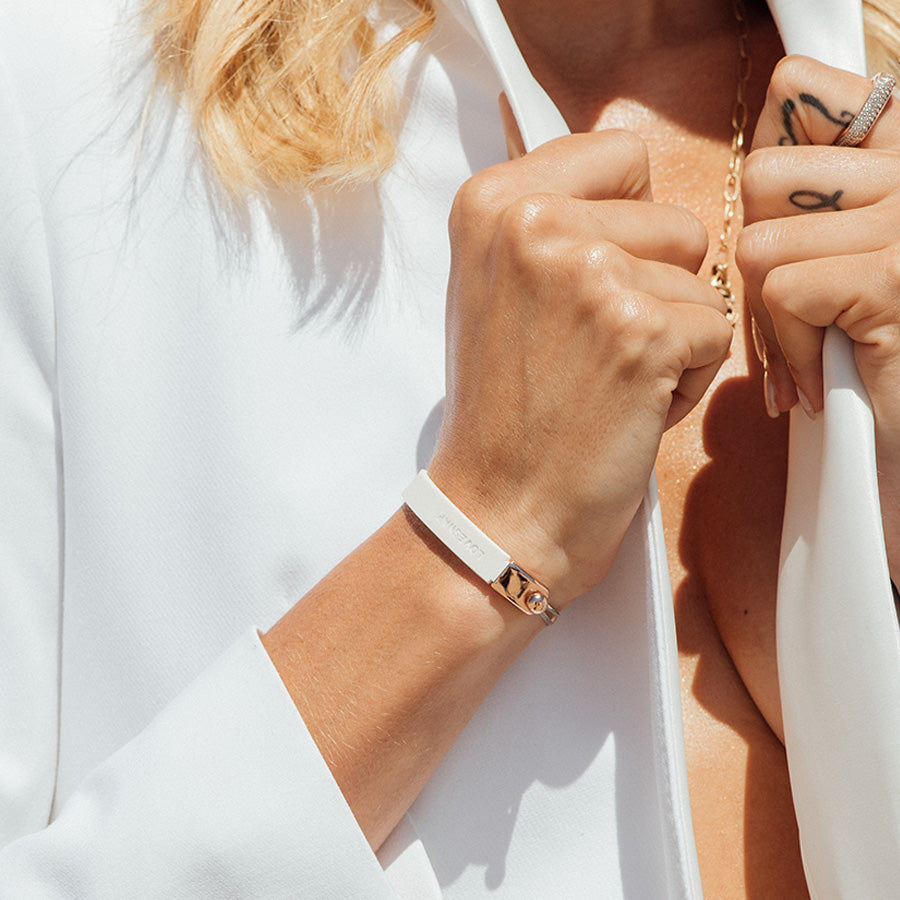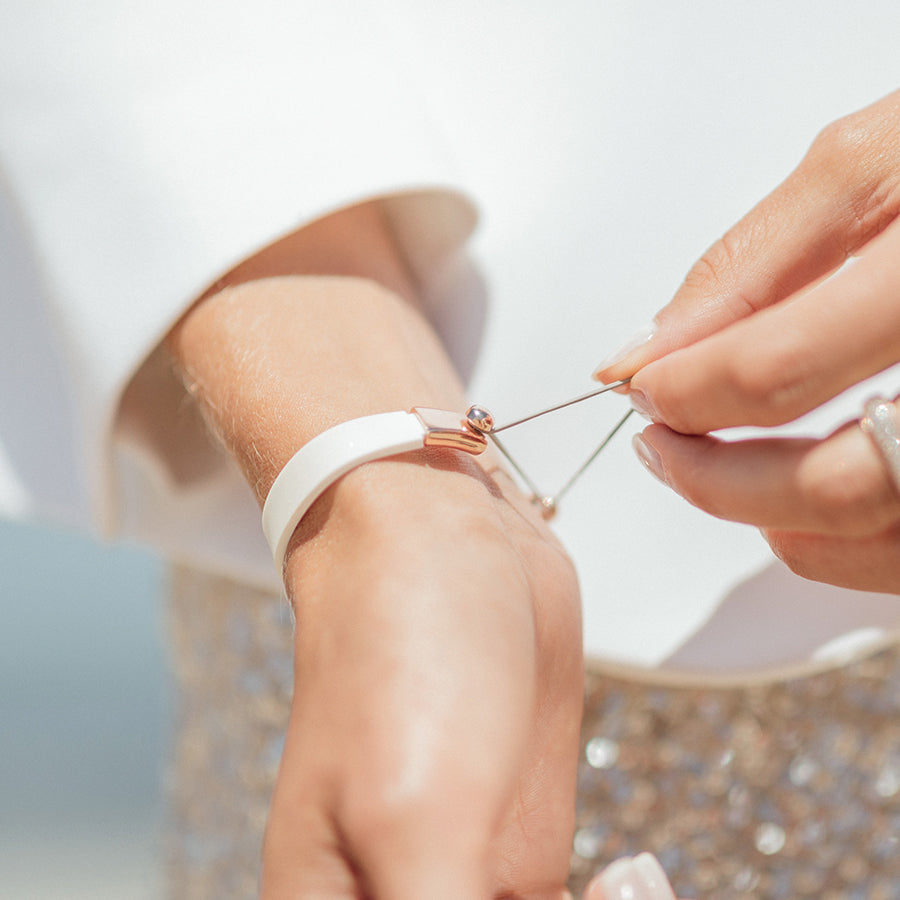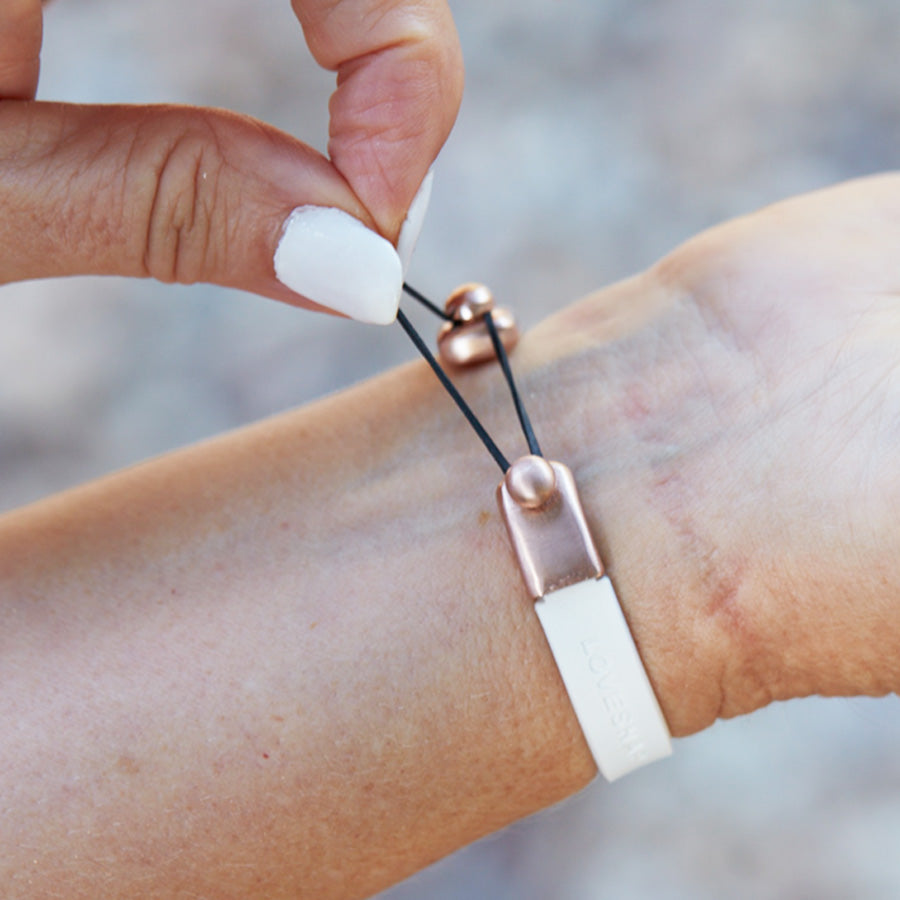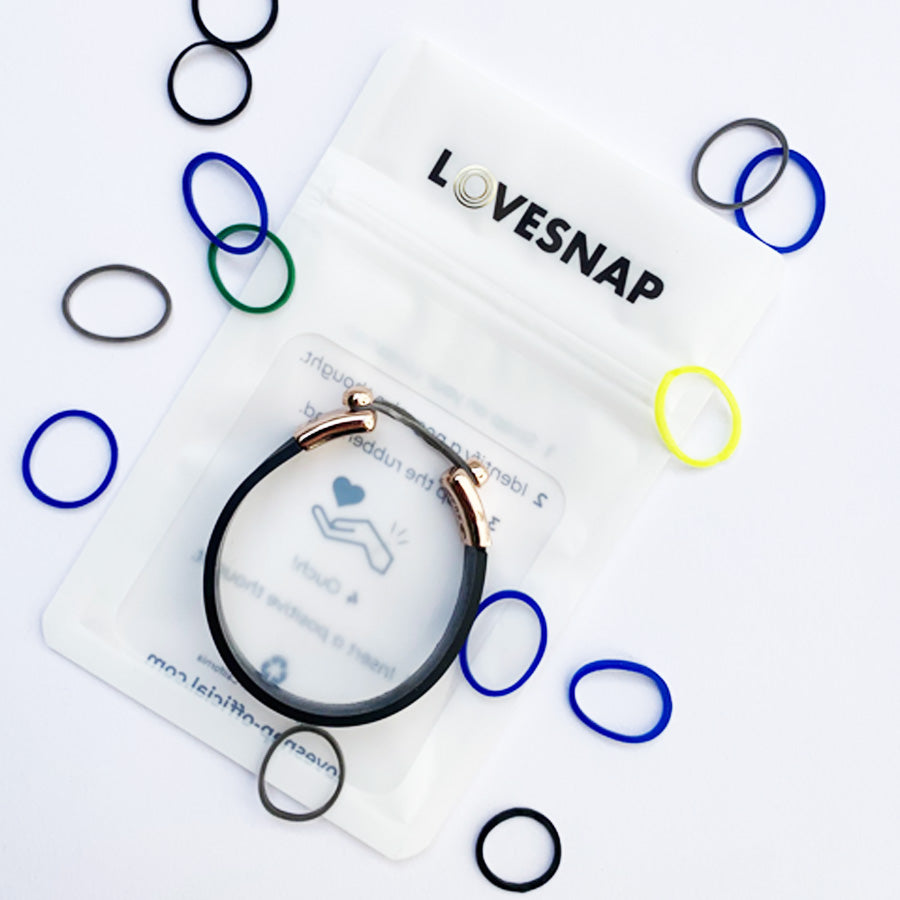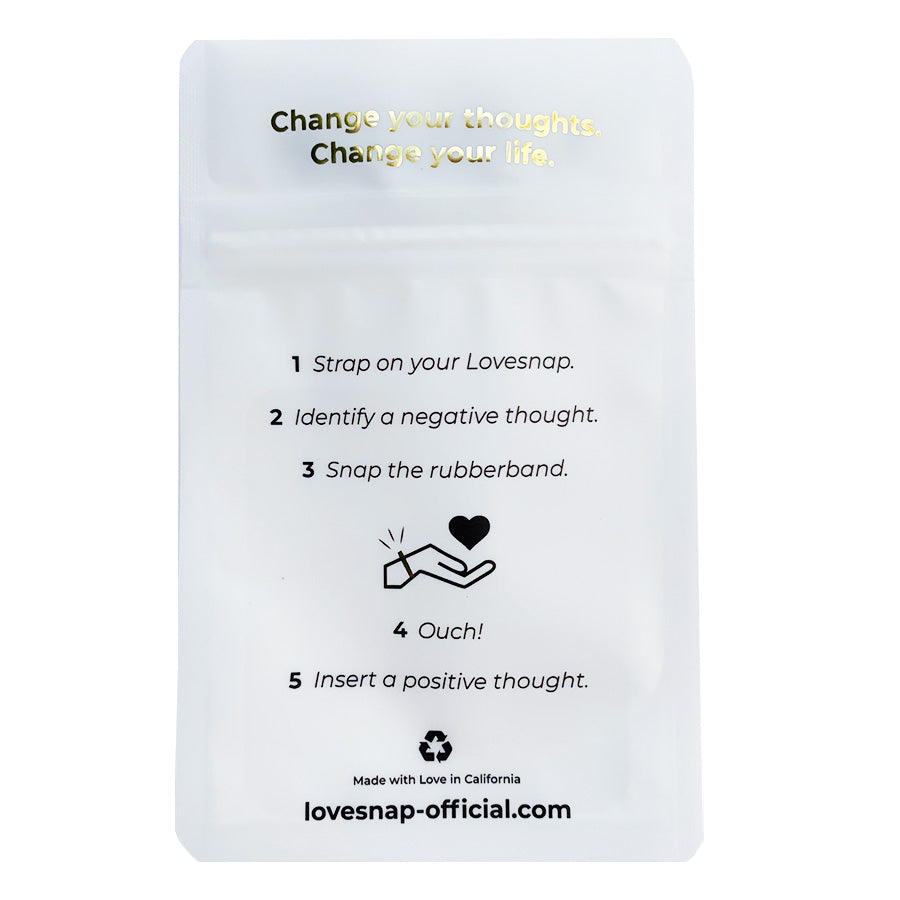 Snap, Shift, and Soar Your Way Into a Positive Life
LoveSnap is more than just a stylish bracelet; it's a transformative tool that empowers individuals to break free from negative thoughts and embrace a more positive mindset. The concept behind LoveSnap is simple yet incredibly effective. By wearing the bracelet and utilizing its small rubber band, users have a tangible way to interrupt negative thought patterns and redirect their focus towards positivity.
5 Easy Steps to a Positive Life
1. Strap on your LoveSnap

2. Identify a negative thought

3. Snap your rubberband. "Ouch"!

4. Insert a positive thought

5. Repeat
LoveSnap Ignites Positive Change with Affirmations!
Unlock the incredible power of daily affirmations with LoveSnap and witness the transformation of your thoughts in just 21 days. Embrace phrases like "I am safe," "I am brave," and "I am a creator" while enjoying LoveSnap's uplifting support. As you practice these affirmations with consistency and focus, they work like magical seeds, sprouting empowering beliefs within you. Experience a profound shift in your mindset, cultivating a more confident, resilient, and creative inner landscape that will positively impact your life.
LoveSnap combines the power of Cognitive Behavioral Therapy (CBT) to transform your negative thoughts into positive ones. Through the simple act of snapping the bracelet when negative thoughts arise, LoveSnap interrupts the pattern and encourages you to replace them with positive affirmations or thoughts. This practical approach helps rewire your thinking patterns, empowering you to cultivate a more positive mindset and embrace a happier, healthier life.
-Alyssa Gruber, MA, MS, PhDABD
FAQ
What size should I get?

It's good to allow for at least an inch for the rubber band, so when choosing your best size - measure your wrist to accommodate just the band and hardware (see chart). It should wrap around your arm leaving a 1" gap (give or take)!
Are rubber bands included with my purchase for a custom fit?

Inside your Lovesnap pouch, you will receive several different sizes and colors rubber bands to create the best, most comfortable wear for you!
Do you sell different color rubber bands?

There are many different colors to choose from to either remind you of something specific, or even match your outfit!
I love it !
We had a few hiccups but the owner was awesome and helped me through it all. Now I have my bracelet and I love it.
Thrilled
I was absolutely thrilled to receive my bracelet in the mail. The quality is quite nice, and even better than I could have ever expected. You certainly never know what's in store for you when you order online, but the *meaning of this bracelet - definitely, comes through strong, too. And, I think *this element of quality…caring quality', is just as important as the bracelet, itself. I really loved the thoughtful insert included. It showed a personal perspective that I think anyone purchasing this bracelet could relate to / if not understand completely. I know I do. I go back to the beginning. My first rubber bands are with me there, too. So, thank you for a little bit of yesterday…still used today. So…*real & relevant - important. And, still…used - today.